In Singapore, we have a wide range of aircon brands to choose from for our home and office. Normally we will be confused about which aircon will perfectly suit our place. So If you are confused to choose the best aircon brands for aircon installation in your place, No worries, here we briefly describe top-selling aircon in Singapore and Its features, So that you could get an idea of the best brand and also easily choose it. 
Top aircon brands for 2023 :
These above  5 top aircon brands are the best selling in Singapore and it's more suitable for residential and Commercial.
Daikin
Daikin aircon brand is one of the most trusted in Singapore with most Singapore people are willing to buy a Daikin for their home. Daikin will always build eco-friendly aircon with more energy-efficient with powerful performance.
We can buy both split air conditioners and centralized aircon in the Daikin brand as per our requirements.
Daikin split air conditioners :
Daikin split aircon has a flat display with the best cooling experience and it's suited for all interior places. There are many key features in which the Econo mode and the motion-detecting sensor are also known as the intelligent eye. It also does quiet operations in indoor and outdoor units with a premium cooling experience.
Daikin has two models. Such models are Daikin I smile Series and Daikin I smile eco series. These two models are given the best performance and the Various of the above two models are Only Refrigerant.
Daikin I Smile Series :
The Daikin I smile series is one of the most familiar aircon models with supreme quality. It has the strongest cooling capacity with 5 ticks and gives the best experience. We can control the aircon by mobile itself from everywhere.
Daikin Ismile Eco Series:
Daikin I smile eco series is currently the top-selling model in Daikin. It has R32 Refrigerant and More eco friendly. Which includes 5 ticks of energy-saving aircon.
Features: Eco Friendly, Energy saving, wifi control, Quiet performance, best cooling experience
If you are looking to install a Daikin aircon, contact the best aircon installation company for your installation needs.
Mitsubishi :
Mitsubishi Electric is one of the most powerful aircon brands, with immense cooling experience. Many Singapore people in their homes and offices prefer the Mitsubishi brand. Many commercial places are looking to install the Mitsubishi brand for their offices.
Mitsubishi has a single split and Multi-split aircon, So we can choose the aircon easily based on location.
The specification of Mitsubishi aircon
is high-quality air filters and high-grade filters help to reduce large aircon issues. With high energy efficiency, the cooling performance of this series will be top-notch.
Mitsubishi Features
:
Energy saving, high cooling, Easy to clean, quiet performance, No maintenance issue in future.
If you are looking to install a Mitsubishi aircon, contact the best aircon installation company for your new installation.
Midea :
Midea aircon is the best searchable aircon brand in Singapore. Most of the people search Midea as equal to Daikin and Mitsubishi. Because it's a budget-friendly aircon and also can get the best aircon performance to equal Daikin and Mitsubishi. The Major Consideration for Midea is that nowadays the market is the new latest model and features to make an easy execution.
Midea has a split and Centralized aircon type of aircon, So you could choose the best model and Size by your expected type of aircon in the place of residential and commercial.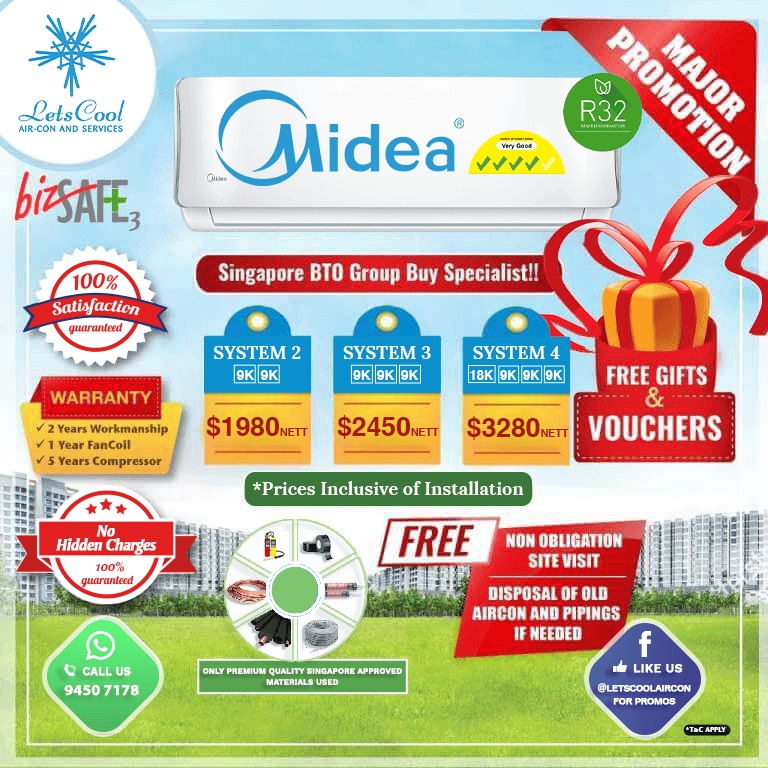 Features:
Energy Efficient, Budget-friendly aircon, Eco friendly, Long durability
If you are looking to install a Midea aircon, contact the best aircon installation company to buy an aircon at an affordable price and install the aircon professionally.
Panasonic :
Panasonic is one of the preferred brands in Singapore. and It's suitable for commercial and residential areas. The main advantage of Panasonic is its new advanced technology of Nanoe and Econavi sensors. The purpose of Nanoe is an automatic air purification system so that it can remove the dirt and dust and prevent the unwanted bad smell of Deodorizing. Econavi sensor Performance is based on Human activity. like the execution is human moving along with the sunlight so that we can get comfort cooling based on Sunlight Intensity.
If You want to install the Panasonic aircon by the type of split and Centralized aircon, You could easily choose the type of aircon based on your location.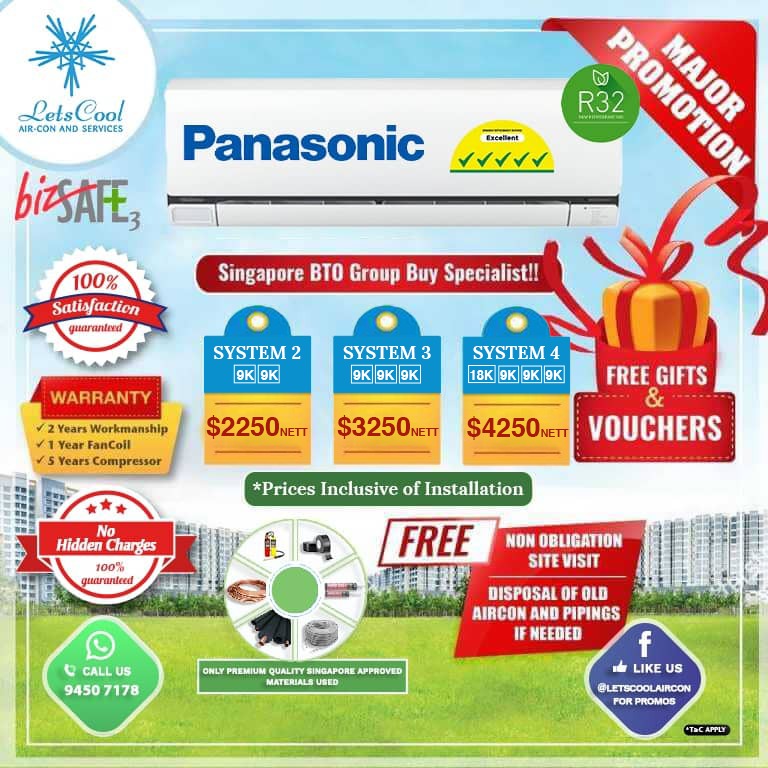 Features: Nano e technology, Econavi Sensor, Energy Efficient, Unique style, and automatic air purification system.
We are one of the most trusted aircon installation companies in Singapore and we do premium aircon installation for home and commercial places. Get FREE SITE SURVEY with us, So that Our experienced technicians will assist you with the aircon and models to be suitable for your locations.