No, It's certainly not ,it is one of the precautionary measures to prevent your body from any bacterias and viruses. Aircon chemical wash it helps to avoid any bad bacterias and viruses if you did not properly maintain your air conditioner the bacteria and germs will be settle in the air your conditioners which causes unwanted health issues like skin disease, respiratory problems, and some other infections.
During chemical wash our service engineer clean each and every part of the air conditioner using chemicals, such as Condenser, Air filters, blower, evaporator coil, etc.. These items which soaked into chemicals to remove all types of dirt from the air conditioner. The drainage system and main pipes are included in the chemical wash.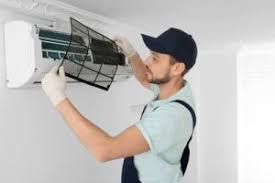 After the chemical wash is done, you can feel the changes when compared to the previous usage of your air conditioner because chemical wash it kills 99.9% bacteria which are spread through the air.so It is one of the precautionary measures to prevent like corona and other viruses.
 Advantages of Chemical wash
It improves cooling when compared to previous use in your air conditioner.
Reduces the consumption of electricity in your air conditioner.
Improves air quality in your air conditioner. It removes unpleasant odors from your air conditioner.
Reduces various noises in your air conditioner
Prolongs the life of your air conditioner parts.
Chemical cleaning is different from normal cleaning. During normal cleaning our professionals only cleaning the outer parts of your air conditioner, But in chemical wash our professionals use special chemicals to clean your air conditioner so bacteria, fungus in your air conditioner are killed by the chemicals. So our technicians always prefer chemical wash for your air conditioner twice a year.
Wearing a face mask in public places, wash your hands using hand sanitizer, Avoid close contact with others( 1m -3m Distance). Avoid shake hands with other persons And Eat healthy foods to increase your immune system, so these all are going to prevent corona from you.