What is Aircon Trunking
Aircon trunking is a covering for your aircon refrigerant piping. It is usually made of plastic and is used to protect the piping from the elements. The main purpose of aircon trunking is to keep your air conditioner's refrigerant piping from getting damaged by the sun or rain. and Aircon trunking is made of fire-resistant materials such as Polyvinyl Chloride (PVC). It has to be fire-resistant because it contains electrical wires in it. FSince, the aircon trunking holds significant weight, because it contains a lot of materials such as Aircon piping, Aircon cable, and water pipe. An aircon trunking is usually white, similar to the plastic trunking that contains your electrical cable. And it has very different sizes and slightly different properties. So here you could know about the aircon trunking and its importance.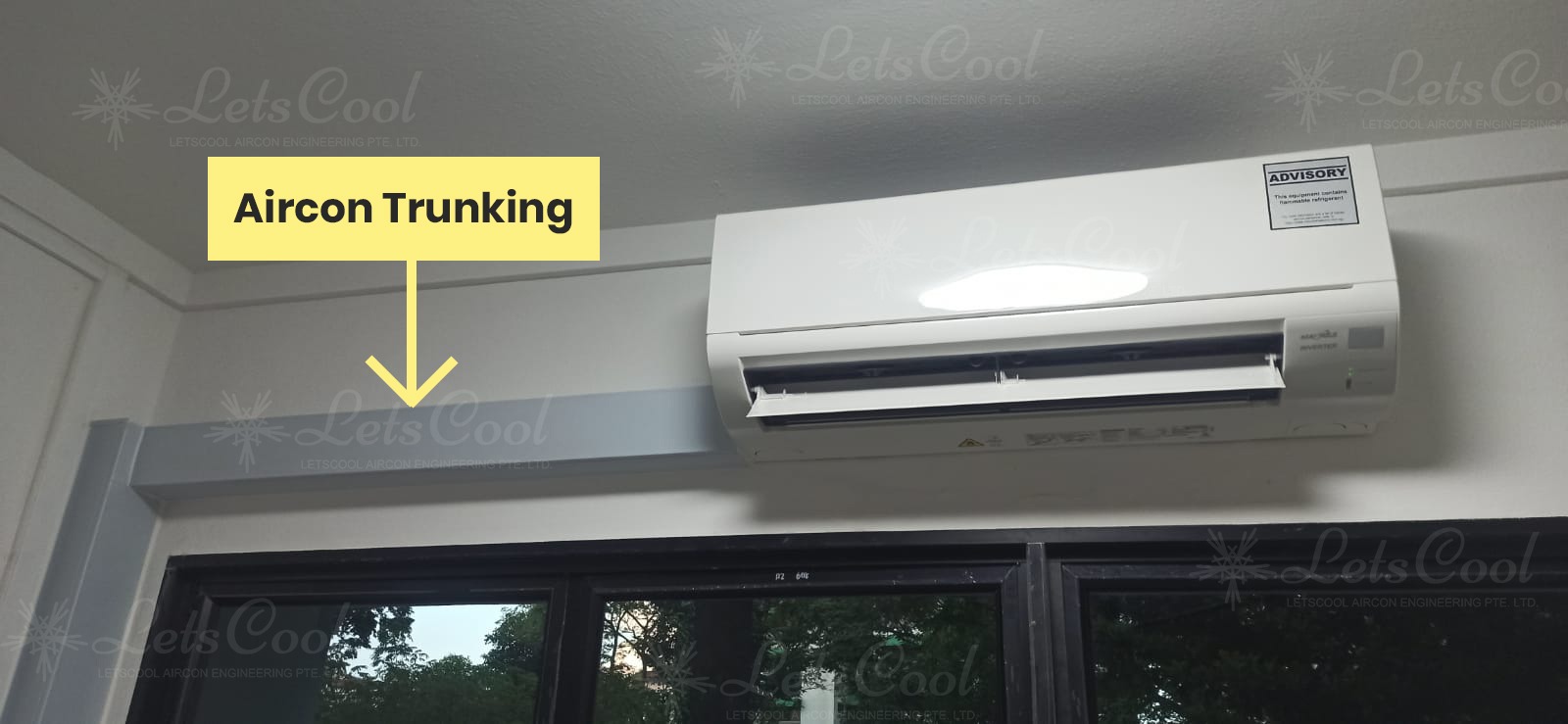 Types of Aircon Trunking
There are three main types of aircon trunking in Singapore, and they are as follows:
PVC trunking – PVC trunking is the most commonly used type of aircon trunking in Singapore. It is lightweight and easy to install. PVC trunking is also available in a variety of colors to match the decor of your home or office.

Galvanized steel trunking – Galvanized steel trunking is another popular type of aircon trunking. It is more durable than PVC trunking and is available in a variety of colors as well.

Aluminium trunking – Aluminium trunking is the most expensive type of aircon trunking. It is also the complicated to install. Aluminium trunking is available in a variety of colors, but is most commonly used in commercial applications.
When do you need aircon trunking?
Aircon trunking is more required when you have to run the aircon materials on the surface of the wall. Typically, we only need to run on the surface of the wall if there are no ways to hide these aircon materials. Just consider, if you have a false ceiling, aircon trunking might not be required. This is because the aircon copper pipe can run above the false ceiling all the way to the condenser unit. but, all HDB units will definitely require trunking. 
Why Do I Need Aircon Trunking?
If your place is a condo and landed property, you mostly only need it on the outside near the condensing unit area. The aircon trunking is installed on the exterior walls to connect to the Aircon copper pipes located inside the walls. It is installed to avoid condensation from forming on the copper pipes outside. Because its heat contrasts with the coldness of the copper pipe, the Armaflex insulation protecting it will be overwhelmed with condensation. And more, it is also more aesthetically pleasing to have trunking concealing the other Aircon materials on the outside. For landed properties, during the construction of the house, most of the owners would conceal the aircon trunking. Hence, you will not see any of them inside the house. but, the trunking is still visible from the outside.
Aircon trunking is important to ensure a smooth installation process – especially for HDB aircon installation: If you were to install a smaller trunking size, you might not be able to fit all the materials in. Nevertheless, you should not install a trunking size that is too large as that would leave a lot of space inside the aircon trunking. Might be the space could have condensation issues in the future. Fixing condensation issues in an AC trunking is even more expensive. In addition, aircon trunking is not always aesthetically pleasing to most as it may seem too bulky. If you are unsure of the size of the Aircon trunking that you should have in each room, feel free to call our hotline for a consultation and book an appointment for a site visit for a better diagnosis.
Benefits of Aircon trunking
Aircon trunking Singapore is also a great investment for residential and commercial. It provides them with the flexibility to install aircon in any location, and the efficiency to save on energy bills. So, if you're looking for a quick, easy and cost-effective way to install aircon in your business and homes, aircon trunking Singapore is the perfect solution. 
FAQ regarding Aircon trunking :
Are you looking for an affordable and efficient way to cool your aircon ?
Aircon trunking Singapore may be the perfect solution for you. Trunking air conditioners are an excellent way to control the temperature in a large area. They can be used in both commercial and residential properties, and aircon trunking is an affordable solution that offers great cooling performance. So if you're looking for a way to keep your property cool and comfortable, aircon trunking Singapore is a great option to consider.
The above aircon trunking describes are most useful to you when you decide to do the aircon installation for your residential or commercial.
Letscool aircon service offers the best high quality  aircon brands for our customers all over Singapore for the best price. If you need any information about aircon trunking, our experienced staff will be more than happy to help. We also offer other aircon services, and we sell Aircon parts for Mitsubishi, Daikin, and Midea aircons – all of which are popular brands in Singapore.
Looking for a New Aircon installation contact us and all installation processes will be done smoothly.