Are you looking?
COMMERCIAL AIRCON INSTALLER
We have experienced technicians to install and maintain all types of commercial air conditioners over 25+years of experience in Air conditioner industry.
We offer Free site survey and best prices based on the type of installation and aircon specs.
Enquire here for Free site survey before aircon installation.
Are you looking to install a new commercial aircon at your office?
Letscool Aircon Engineering Pte. Ltd. Have a highly trained and experienced Aircon technician's and 25+ years of experience in aircon includes HDB, Condo, commercial aircon installation and services. We offer a scope of aircon establishment bundles including VRV and VRF system, multi-split , Single split and Ceiling cassette.
We offer wide range of options and best safety standard procedures to work on fully functional work places as well.
Our technicians have vast experience in the aircon industry, we worked on different types of aircon installation in all kind of commercial places all over Singapore. You can buy all kinds of industrial and commercial aircon with us with in best prices.




Aircon Maintenance & Services
After the installation routine maintenance is important if you do not maintain properly the system performance will be reduced drastically due to full time usage. We suggest all commercial places and industries hire the aircon company for aircon maintenance they take care of the whole industry "Yearly Aircon Contract" basics.
If you go with a yearly aircon maintenance contract you will get offers & we will maintain the aircon and we manage the schedule to reduce your work load
If you go with a yearly aircon maintenance contract you will get offers & discounts
Single Split Aircon
For Small Office's
Multi Split Aircon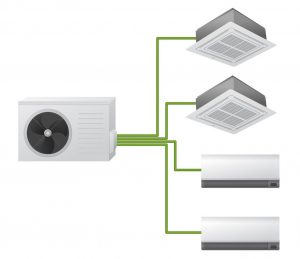 For Large Office's
VRV / VRF System
For Large Industries
Split air conditioner: For small office space split, aircon is best suited with supreme cooling. Many cafes, retail shops, etc. they only prefer split air conditioners. Split air conditioner systems also save electricity bills. Letscool offer all range of split air conditioners systems at an affordable cost.
Multi-Split Air Conditioning System: Multi split air conditioner can perform similarly to a split air conditioner system, but you can get 8-9 indoor units with multi system type. You can get a wall-mounted or ceiling-mounted type with this type of  Multi-Split Air Conditioning System. It also helps space and money with this.
VRV or VRF Air Conditioning System: For larger buildings, larger office space, hotels, etc.. for all these types of larger commercial places VRV or VRF Air Conditioning System is suitable. It can be easily controlled and it is more efficient so it one of the favorite commercial aircon.
Cassette Air Conditioning System: It is also one of the commercial aircon types as this system is installed in the ceiling so it gives cool air for everyone in that room. Some small offices consisting of 12- 15 persons can look for this type of commercial aircon for them.
Centralized Ducted Air Conditioning System: It is one of the most expensive commercial aircon types among the previous ones . so for larger offices like the IT Industry and other larger office spaces you can use them. It also gives a purified air so you can prevent them from dust particles or allergens.
Why to choose Letscool for commercial aircon installation and maintenance :
15+ Aircon industry experience in Singapore with high-quality technicians

Licensed and registered aircon company

Free site survey.

Our team will assist you fully with which commercial aircon system suits your place.

Reasonable price.